Building Quality Sunrooms
Papillion Construction is the sunroom authority in designing and delivering quality sunrooms in Fort Myers, FL, Cape Coral, Naples, Bonita Springs, North Port, Port Charlotte, and the surrounding areas.
Papillion Contruction builds custom sunrooms on site allowing us to customize your room to the exact layout of your house and the foundation that the room will be built on.
Every home is unique. Every customer has different wants and needs. Our custom sunrooms and patio enclosures cater specifically to each home and homeowner.
Sunrooms by Papillion Construction are the ultimate in style and luxury for the homeowner who wants to enjoy the outdoor feeling from the comfort of indoors.
Enjoy the energy, beauty, and natural light that nature has to offer year-round in your new sunroom addition. Our insulated sunrooms will keep you comfortable 365 days a year regardless of outside weather and temperatures.
Studio style sunroom
Studio style sunrooms consist of a roof that slopes gently from the house to the front of the sunroom. On a studio style sunroom, the soffit of the house can be removed to allow for extra height of the sunroom walls and roof. Transom windows can then be added to provide more glass area and allow more natural light into the room.
Gable Style Sunroom
The gable style sunroom is an architecturally pleasing extension of your living area. It consists of a roof that slopes down from a center beam to the side walls.
This type of room addition allows the space for more windows to be installed resulting in additional light and a broader view of your outdoor surroundings.
The gable style room can also include a shingled roof. This gives the look that the room was part of the house originally.
Schedule Your Sunroom Design Consultation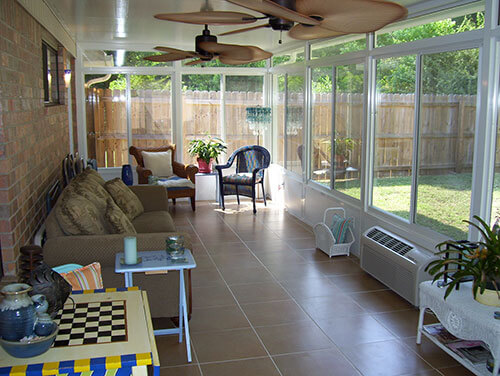 Looking to improve your backyard living experience with a sunroom? We offer a wide variety of options for your particular home and budget.
Please visit our Contact page to schedule your sunroom consultation today. You will be sure to receive the highest quality craftmanship in your sunroom addition.
We provide services for sunrooms in Fort Myers, Cape Coral, Naples, Bonita Springs, Port Charlotte, North Port, Pensacola, Fl, Gulf Breeze, and Milton.